Seeing is believing. You can explore the latest construction innovations adopted in sites and projects through technical tours!
Notes:
Places of technical tours will be allocated by lot drawing.

All participants should receive their third doses of COVID-19 vaccination in order to enter the construction sites

An electronic copy of CPD attendance certificate will be issued to all technical tour participants within one month after the event. A maximum of 3.5 CPD hours will be granted.
Date
16 December 2022
Application End
Tour 1 - Tseung Kwan O Desalination Plant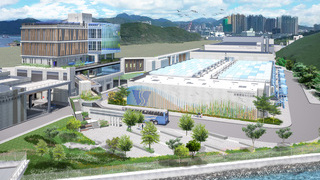 The project will provide the first stage of the proposed seawater desalination plant using reverse osmosis at Tseung Kwan O (TKO) Area 137. The plant will have a water production capacity at 135,000 cubic metres (m3) per day with provision for future expansion to the ultimate water production capacity up to 270,000 m3 per day.


Highlights:
Adoption of Smart Site Safety System
Implementation of Safety Training Centre
Efficient BIM collaboration and adoption of DFMA Façade
Attained Provisional Platinum rating under BEAM Plus certification
Tour 2 - Site Formation Works at Kwu Tung North and Fanling North New Development Areas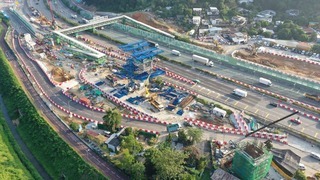 The project is the first phase of the KTN and FLN New NDAs development. It includes the site formation of about 70 hectares (ha) of land and construction of about 4-kilometre (km) long dual two-lane Fanling Bypass (Eastern Section), and about 10 km of local roads, footpaths and about 4 km of cycle tracks.


Highlights:
Adoption of Smart Site Safety System
Construction of viaducts across existing MTRC railway with Rotational Bridge Launching approach
Tour 3 - Student Residence of the HKU at Wong Chuk Hang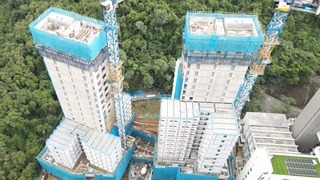 The project will provide two 17-floor towers of student residences comprising student flats each with 8/9/10 rooms on a podium. It will provide around 1,224 student places as well as living accommodation for management staff and support facilities.


Highlights:
Selected as one of the two pilot projects for adopting Modular Integrated Construction (MiC) in Hong Kong by DEVB.
Adoption of design for safety and productivity concepts
Tour 4 - The Quayside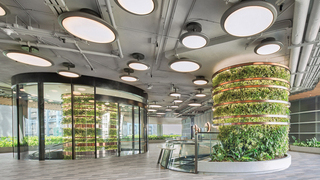 The Quayside is a grade A office-cum-retail development situated in the Kowloon Bay Action Area in Kwun Tong, Hong Kong, with a total GFA of approximately 82,000m2. The project envisions a welcoming, healthy, and sustainable office architecture in the heart of Kowloon East, where accordingly to the vision of Energizing Kowloon East Office.


Highlights:
Achieve three major environmental certifications: Platinum BEAM Plus and Platinum LEED Core & Shell, as well as Gold WELL
30% energy reduction achieved by various green features
30% green coverage of site area
Adoption of concrete maturity sensor during construction
Tour 5 - Kai Tak Sports Park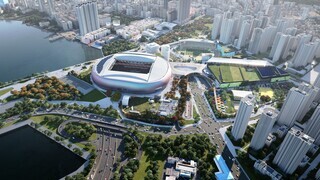 Kai Tak Sports Park will provide high-quality facilities, not only for major events but also for daily enjoyment by the community. With a wide variety of sports venues, open spaces, park facilities, retail and dining outlets, it is set to be an urban oasis to meet the diverse needs of the public, and professional and amateur athletes.


Highlights:
Implementation of Permit-to-Works for Slab Openings with BIM & CDE monitoring
Demonstration of Heavy Lifting System
Bowl Seating Installation by Mechanised Travelling Portal Gantry
Project Data Utilization on Dalux
Tour 6 - Expansion of Sha Tau Kok Sewage Treatment Works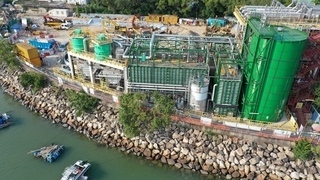 This project reconstructs the Sha Tau Kok Sewage Treatment Works to increase its capacity from 1,660m3 to 5,000 m3 per day. The Contract includes provision of temporary sewage treatment facilities to maintain sewage treatment services during reconstruction and construction of a longer and larger submarine outfall.


Highlights:
Productivity & safety enhancement with BIM, MiC, DfMA
Overcome limited land use by & tight schedule with off-site construction methodology
Real-time confined space works monitoring
Adoption of modular lateral support system for deep excavation
Tour 7 - Organic Resources Recovery Centre Phase 2 (O·PARK2)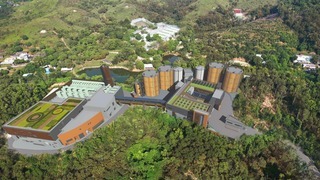 Organic Resources Recovery Centre Phase 2 (O·PARK2) will be located at Sha Ling in North District and occupy an area of approximately 2.5 hectares. O·PARK2 will be able to treat 300 tonnes of food waste daily and produce biogas, which is a form of renewable energy.
Highlights:
Adoption of sustainable steel bar & green concrete
Use of Carbon Capture, Utilization and Storage (CCUS) Technology
Adoption of C-Smart Integrated Site Management Platform and C-Sys Digital Management System
Carbon emission monitoring by Carbon Neutral Cloud Platform
Tour 8 - Sai Sha Road Widening Works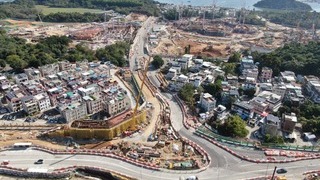 This civil project involves widening of a section of the current road from two lanes to dual two lanes, development of a cycling track, implementation of greening works to compensate for the affected trees, construction of three footbridges and installation of sewage pipes by tunnel boring machine along existing roads.
Highlights:
4D Building Information Modelling (BIM) for Pumping Stations Construction
Adoption of Drone & 3D Land Surveying
Real-Time Basis Monitoring by Mobile Apps